Try the tool for free
Simply import your contacts
To start using Sarbacane, you must first import your email contacts. The operation is especially simple, you can upload a .csv, .txt or .xlsx file containing the different addresses, copy and paste contacts or enter them manually. You can also get lists synced with your contacts generated through your site.
During import, Sarbacane will automatically remove duplicates, but will also correct wrong addresses. The tool understands that [email protected] addresses should, for example, be replaced by [email protected] addresses. Sarbacane supports imports of all formats and offers an import API. The tool also automatically manages cancellations.
Easily create email campaigns
The second step is creating your actual email campaign. You have the option to create a standard campaign or create a split AB campaign: test 2 versions of emails, varying the text, colors or images to identify what works best with your audience.
Mailify stands out for its simplicity and ease of use. If you work in a small team and are not a developer or integrator, Sarbacane helps you simply create an email suitable for all media, without any particular technical knowledge.
The tool is equipped with its EmailBuilder that allows you to create personalized emails in a few clicks with a drag and drop system to place your blocks and your various content elements: text, image, video, button, social networks or even a plan. with google maps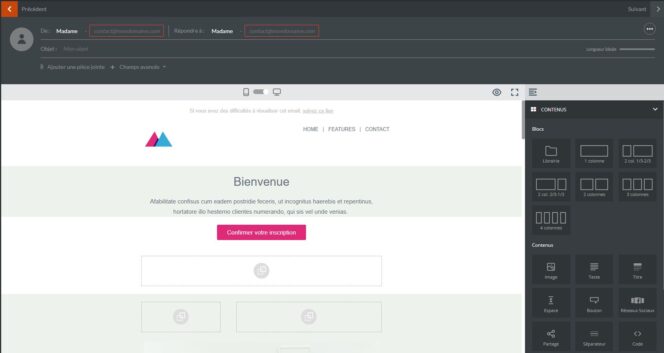 You can use existing templates, Sarbacane offers about 100 templates classified by theme: newsletters, e-commerce, notifications, recurring events or holidays (birthdays, Christmas, etc.). Once the template is chosen, you can modify any preset element. This allows you to create an email in a few clicks while enjoying a very elaborate graphic identity.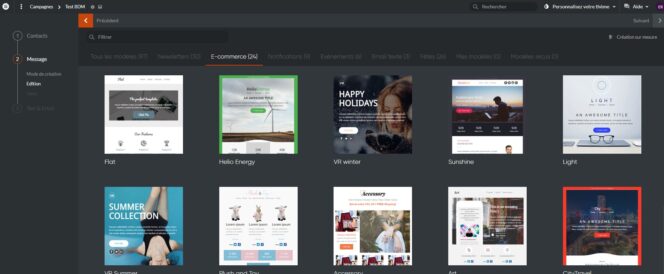 If the model does not fully meet your needs, you can add modules again and modify the colors, alignments, spaces between modules… Everything is customizable. Once you have created your campaign, you only have to send it, it is done in a few minutes and in a very simple way.
There are also other options available to create your emails: you can import your HTML files and write your own code in a dedicated editor or opt for the classic emails, in plain text in .txt format with no image and no formatting.
Send SMS marketing campaigns
Sarbacane is also a player in the field of SMS marketing. It allows you to launch specific or recurring campaigns with sales and loyalty objectives. In addition, the tool allows the sending of transactional SMS in order to confirm an appointment or report the availability of an order in the store, for example.
For further customization, you can insert fields: title, last name, first name, email and mobile number. You have several options at your disposal to insert a link: to an external page, to an integrated form or to a Sarbacane landing page.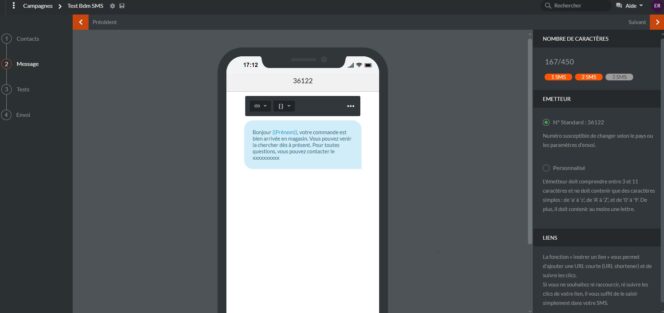 This communication channel is important since 90% of messages are read within 3 minutes of being sent (depending on the platform). It is a true complementary service to emailing campaigns.
You can try the tool and send 10 free SMS.
A marketing automation solution
The tool can create automated campaigns for emails and SMS based on the different types of scenarios offered. In particular, you can create scenarios when a person signs up for your newsletter or when a person leaves a basket on your site.
Sarbacane makes it easy to implement scenarios by classifying them by category and accompanying you at each stage of creation. This well-designed service allows you to save time but also better target your messages according to your contacts' actions in your emails and on your website.
Sync your data
Connections with other applications are possible, such as PrestaShop, WordPress or Magento, in order to automatically synchronize your marketing data, in particular your contact lists. The WordPress plugin for Sarbacane offers you real-time synchronization, you no longer need to manually export your lists from your site, which guarantees you continuously updated data about Sarbacane.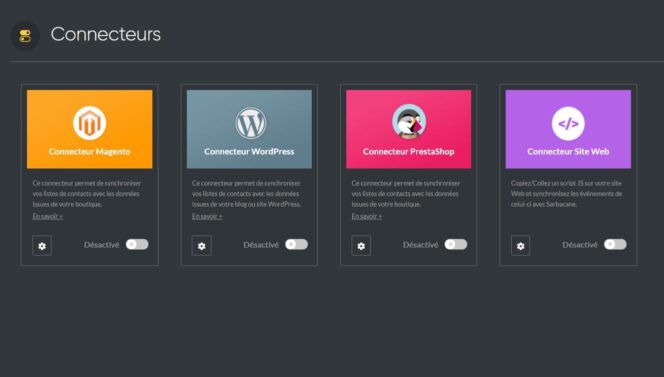 A trusted tool for deliverability and support
For optimal deliverability, Sarbacane allows for dedicated IPs and the registration of multiple custom sending domain names. It is possible to have a domain name in your brand name, for example, which reassures recipients that they will directly identify the sender.
Another strong point of Sarbacane: accompaniment and support. A team of experts is dedicated to strategic support for clients: practical advice, analysis of their market, creation of tailored messages, analysis of their performance. Customer support is based in France and is provided free of charge by email, phone or live chat on the site, ensuring quality support. Sarbacane also has training, numerous resources on its blog, and white papers.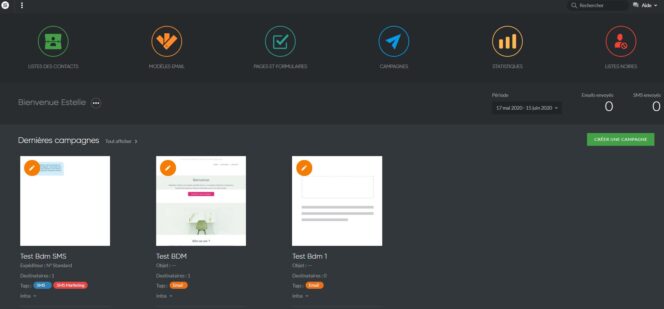 In use, the tool is practical, easy and above all very intuitive to send an email in just a few minutes. The interface is simple and well thought out, and fully adapted to the creation of campaigns by collaborators who are not code specialists or for VSEs and SMEs that do not have their own graphic resources.
Finally, we appreciate the collaborative dimension of the tool, which allows up to 10 users to work in the same work environment and synchronize data in complete safety.
Clear prices adapted to all needs
In terms of pricing, prices vary depending on the number of emails sent and the services and strategic support chosen.
The Essential offer from €59 includes the creation of emailing & SMS campaigns and automation campaigns (1 user account).
The Premium offer from €129 additionally offers 1 custom domain name and 1 dedicated IP, advanced features for automation and A/B testing, creation of landing pages and popups (3 user accounts).
The Exclusive offer from €229 includes 3 domain names, 3 dedicated IPs, the desktop version and also personalized coaching (10 user accounts).
The trial version gives you the opportunity to try all the features of the Premium offer for 30 days with the ability to send up to 500 emails and up to 10 SMS.
Try the tool free for 30 days
This page contains affiliate links. We may receive a commission if you decide to use the corresponding service.