Consumption patterns are changing, especially after the health crisis. Consumers looking for quality wellness products are increasingly turning to a personalized and trust-based purchasing system. QN Europe combines the benefits of direct selling with the digital world. Jérôme Hoerth, managing director of QN Europe answers our questions.
Can you introduce QN Europe?
Jerome Hoerth: The company was founded in 2014 and offers innovative and quality products, aimed at improving the quality of life of our consumers. We specialize in wellness products. Most of these products are made in Europe, the result of collaborations with laboratories, research institutes and manufacturers. Thanks to our direct sales model, QN Europe can offer very attractive prices, as we ignore several intermediaries (advertising, marketing, etc.)
How does this sales system work?
Jerome Hoerth: We rely on a network of 4,000 independent sellers (2,000 in France) responsible for recommending products to our customers. ND Europe proposes a hybrid system, which combines direct sales and e-commerce. The seller can travel to demonstrate the products, which he himself has already used and approved. Then, thanks to our platform, the entire process is digitized, from the order, to the payment, up to the customer's home delivery in a few days. The Covid-19 pandemic has proved us right, this digital system is attracting more and more consumers but also sellers. Ultimately, it's like shopping in e-commerce, except that the person who recommended the product is legitimately rewarded by QN Europe.
What are the advantages of independent door-to-door sales?
Jerome Hoerth: The statute of VDI, framed by the law, today represents a real business model that allows novice self-entrepreneurs to launch without taking risks or massive investments, unlike franchising. At QN Europe, our ambassadors are door-to-door brokers, as they sign a brokerage contract with the company to sell our products. As soon as they enter the network, they benefit from the support and training of "My start up" to familiarize themselves with the rules of door-to-door sales, taxation, how to use social networks correctly, etc. We are also supported by a firm of lawyers and chartered accountants. Sellers can buy demo products but the registration fee is free, the first turnover is generated by the sale of the items. VDI are paid on commission, they can also receive bonuses. Over time and depending on his business, a salesperson can develop his sales network and thus earn a commission on the sales made by his team.
Is there a typical profile for becoming a VDI?
Jerome Hoerth: No ! The only watchword is motivation! Set a goal and achieve it. This state offers great freedom. That of choosing one's working hours, one's own pace, of being able to work at home, of combining one's business with one's family life. The Covid epidemic was a trigger for many employees who wanted to change direction to be more in line with their personal aspirations. It can be an additional income, as the VDI earns an average of between 300 and 500 euros a month at the beginning, and then becomes a full-time activity. This is what happened to me, for example, and I'm far from the only one in our network! Becoming a VDI can also be a supplement to your pension to validate missing quarters, a very topical topic among the partners we recruit! We note, however, that this status is attracting more and more young people who want to become self-employed. In the first quarter of 2022, QN Europe therefore recruited more than 300 partners aged between 20 and 25 in France. A youth that we also find among our customers.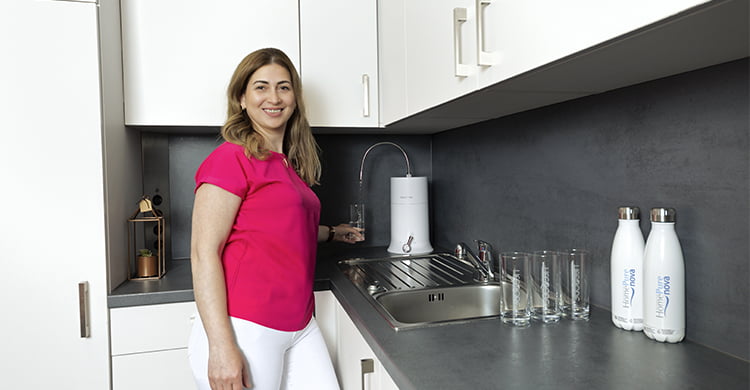 What types of products do you offer?
Jerome Hoerth: We have several ranges all focused on wellness. Our current flagship products are the brand's air purifiers and water filters. HomePure. Developed in Switzerland, these filtration systems can neutralize over 99% of bacteria and pollutants in the air and water. They have been highly acclaimed since the start of the Covid-19 pandemic. We also offer a line of cosmetics from the brand Physical radiance. Formulated in Switzerland, this range uses an innovative formula that offers a powerful blend of pre and probiotics to gently cleanse the skin and take care of itself. QN Europe introduces LifeQode food supplements. Made in Germany, these ingredients provide the vitamins and nutrients you need to be in good shape all day, help detox your body and regenerate your cells overnight. Consumers are also looking for products of pleasure, as evidenced by the enthusiasm for our Swiss watch line "Atelier of the time". These are unique pieces, for which the customer chooses the components, which he then assembles at the watchmaker for an unforgettable experience. All our brands and products are all to be discovered on our site.