business news Elden Ring at the top, Devolver in turmoil … this week's economic news
Sales figures, study acquisitions, financial statements, developer transfer window, investments … if these topics interest you, you've come to the right place. We offer you an update on last week's economic news.
Summary
Elden Ring regains US sales lead

Devolver: worse than expected sales since January

Focus Entertainment unveils its results, 31 games expected by March 2025

Sony's Firesprite studio is growing

Briefly in the economic news of the week
Elden Ring regains US sales lead
"The market is in dire need of new big releases" : That's how Matt Piscatella research firm NDP Group summarizes the findings for May 2022 in the United States. The numbers are grim: spending on games, consoles and accessories dropped 19% to $ 3.7 billion in revenue. This is the lowest amount since February 2020 ($ 3.5 billion) and is also the seventh consecutive month that spending has declined.
The observation is simple: in the top 50 of the best sales of May we find … only one novelty. This is Evil Dead The Game, installed in 4th place. Faced with a lack of competition, games like Call of Duty Modern Warfare (2019) and Skyrim resurface in the top 20. At the top is logically Elden Ring reclaiming her throne, dragging LEGO Star Wars The Skywalker Saga to 2nd place. Also noteworthy is the good performance of Nintendo Switch Sports which, for its second month of marketing, has risen from 5th to 3rd position. Nintendo games are doing well overall with eight reps, which is all the more impressive given that eShop sales aren't counted here, while Sony puts MLB The Show 22, Horizon Forbidden West, and Gran Turismo 7.
On the console side, the Switch was the best-selling console in terms of both volume and value for the month of May. In the current year, the Nintendo machine dominates by number of units sold, while the Xbox series has generated the most money.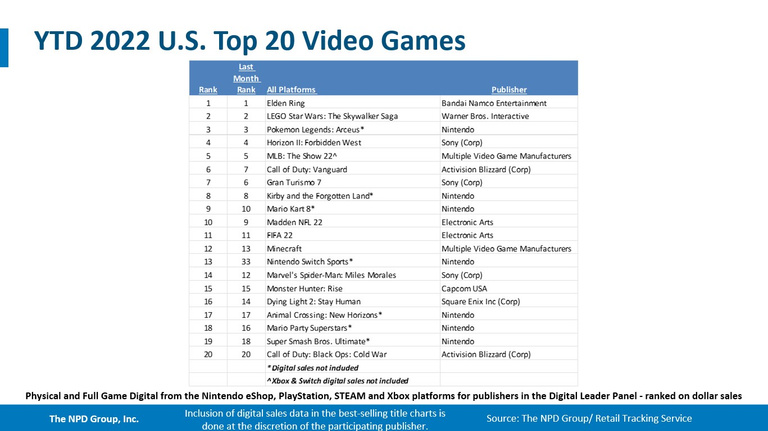 Devolver: worse than expected sales since January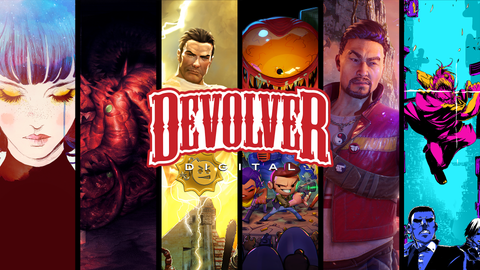 Having entered the London Stock Exchange last November, Devolver Digital must now report its financial results regularly. This week, the Texas-based publisher warned its investors sales of its games released between January and May 2022 lower than expected. According to the company, this is the consequence of a competitive market as well "specific factors of each game" which he will take into account for his next titles. "At the same time, an increase in depreciation costs related to these games is expected, as well as an increase in general operating expenses due to inflation, staffing and marketing."also notes the press release.
In the period in question, Shadow Warrior 3, Weird West, Trek to Yomi and Serious Sam Siberian Mayhem are the main games released by Devolver. We can see that the first three have in common that they were integrated into a subscription as soon as they were released: the Game Pass for Trek to Yomi and Weird West and PS Now for Shadow Warrrior 3.
Devolver plans to raise the bar in the second half of 2022. The publisher will bet on the releases of Return to Monkey Island, Cult of the Lamb, Reign in three realms or Wizard with a gun, but also on its vast catalog of games already available (more than 90 titles) from which most of its revenue comes. For the whole of 2022, Devolver expects a turnover of between 125 and 135 million euros, which would represent a good increase compared to 2021 (90 million euros), and a profit before interest and taxes of between 25 and 30 million euros.
Focus Entertainment unveils its results, 31 games expected by March 2025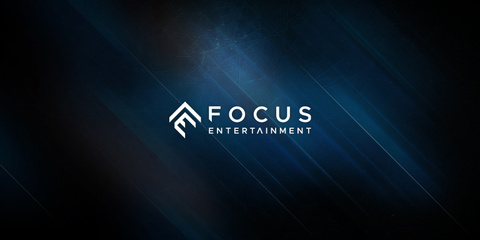 Closing for Focus Entertainment. After several years of growth, the French publisher and developer recorded significantly lower results for the fiscal year ended March 31, 2022, with a turnover of 142 million euros (-17%) and a net profit of 3 million euros. (-78%). However, these figures are considered "slightly above expectations" according to press release of the group.
Several facts need to be highlighted. First, 88% of Focus game sales were made via download. Three games have "has strongly contributed to the turnover" : SnowRunner, Insurgency Sandstorm and A Plague Tale: Innocence. The "good performance" from Necromunda Hired Gun and Aliens Fireteam Elite are also mentioned.
Focus says it spent € 35 million developing new games during the year, up from € 39.5 million the previous year. The company also spent € 59.1 million to purchase the Dotemu, Leikir Studio, Streum On Studio and Douze Dixièmes studios. To replenish the coffers, 68.8 million euros were raised in May 2021, in addition to 130 million euros in the form of bank loans, of which 52 million were withdrawn at the end of March 2022. As of 31 March, Focus's cash amounted to 62, 6 million euros.
Finally, the budget looks to the future with optimism. Focus announces that its line-up of games over the next three years is the most ambitious in its history, with none other than 31 games are expected to launch by March 2025. We can already consider Hardspace: Shipbreaker, launched in version 1.0 on May 24, as a success with its 500,000 copies sold. The company will also be able to count on Teenage Mutant Ninja Turtles: Shredder's Revenge (released on June 16), Evil West (September 20), A Plague Tale: Requiem (whose release date will be revealed on June 23) or even Aliens: Dark. Descent (2023). We also learn that a new "ambitious game" developed by Deck13 (The Surge) is slated for release in early 2023.
Sony's Firesprite studio is growing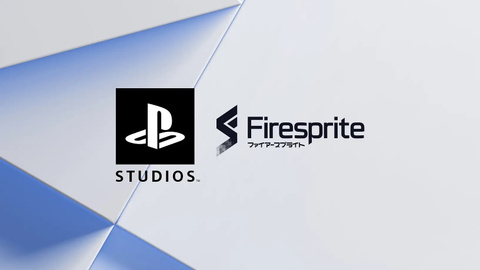 Firesprite obviously has great ambitions. Acquired by Sony last September, the studio will move to a new location, also located in Liverpool, but much larger with available space of 4,645 m² compared to just 215 m² previously. A movement that testifies to the remarkable growth it has experienced in recent years. Founded in 2012 by former members of Studio Liverpool (Wipeout), Firesprite now has more than 300 employees and continues to recruit massively, as the few 50 job vacancies listed on his site. Prior to its acquisition, the studio was already a close partner of Sony. In particular, he signed the horror FPS The Persistence, first released on PS VR in 2018, and participated in the development of The Playroom and The Playroom VR.
Currently, the British team co-develops the PSVR 2 game Horizon: Call of the Mountain with Guerrilla Games while you work on it three other AAA projects developed with Unreal Engine 5, as evidenced by its various job offers. Mention is made of a dark and ambitious narrative adventure game, a multiplayer PvP shooter based on a new license and oriented "game service" and multiplayer action game with vehicles. Regarding the latter, there is talk of a reboot of the Twisted Metal franchise according to rumors.
Briefly in the economic news of the week
After a month of early access on Steam, V Rising has surpassed 2 million in sales.
Kojima Productions has confirmed that its collaboration with Xbox on a cloud-based game does not compromise its relationship with Sony. "Many people have asked us about our partnership with Sony. Please note that we continue to have a great partnership with PlayStation as well."we can read on

twitter account of the studio

.
Nintendo Switch Sports tops physical sales in France for the sixth in a row. Followed by Minecraft (Switch version), Mario Kart 8 Deluxe, Horizon Forbidden West (PS5 version) and Kirby and the Forgotten World.
Switch now has more than 25 million units sold in Japan. It is the third best-selling console in the archipelago behind the Game Boy (32.5 million) and the Nintendo DS (33 million).
Games integrated into the Netflix catalog have been cumulatively downloaded 13 million times according to Sensor Tower. The streaming giant, which has over 220 million subscribers worldwide, currently offers 24 games, up from 5 when the service launched last November. Spiritfarer, Reigns: Three Kingdoms, Terra Nil, La Casa de Papel: Money Heist or The Queen's Gambit Chess will land soon.