Founded in 1909 in Angers by Paul Baugas, Dean of the Catholic University of the West. ESSCA, with its 112 years of existence, offers several complementary training courses in Marketing, Finance, Commerce, Human Resources and digital. ESSCA has 8 offices in France. Member of the Conférence des Grandes Écoles, it offers in particular in Lyon a "Grande École" program (course at bac +5) with the mark of Master and a Bachelor in International Management (diploma at bac +3) targeted and with the mark of Licentiate .
ESSCA's mission is to reveal talent for companies. The Lyon office is strategic for anchoring in the AuRA region "helps companies in the area to address local students".
The professional integration rate is 87% across all campuses in France.
For this, the school relies on strong selectivity to integrate the school. Furthermore, there is no remuneration for grades, each module must be validated. If a pupil does not pass the end of the year, he is excluded, he does not repeat himself.
The school allows itself this severity, because it offers real support throughout the course.
Pierre-Yves Genon (Director of the ESSCA Lyon campus) explains "We are a school with ambitions, we want to be better. We support a lot, there is a recovery session as a last resort, so no repetition possible. »This method seems effective, because in the first year the failure / redirection rate is around 4-5%.
ESSCA's Lyon Campus Director insists that "ESSCA is the only triple accredited general interest business school and present on 8 campuses in France and abroad where it implements comprehensive and complementary training (Grande Ecole Program, Bachelor, Master of Science, Specialized Masters, Executive Education and MBA) ".
In fact, the school holds 3 AACSB, AMBA and EQUIS accreditations. These are 3 international reference labels that certify the quality of programs and scientific production in the field of management.
ESSCA in Lyon
Created in 2016, the Lyon campus currently hosts nearly 1,000 students.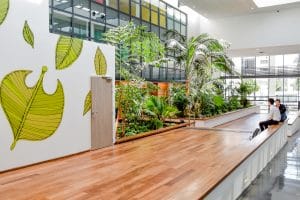 This number of students increased by 12% over the previous year. This progression clearly reflects the dynamism of the Lyon school, which is accumulating new projects for the start of the next school year.
The Lyon campus hosts a team of 25 teacher-researchers of 10 different nationalities and more than 150 temporary workers.
ESSCA had already declared its intention to occupy an important position in Lyon in 2019 by moving to the former administrative headquarters of the Merial de Gerland laboratory.
Just 3 years after moving to the 4 avenue du Pont Pasteur headquarters in Garland, the growth of its workforce has led ESSCA to invest all the 2,500 m² still available in the building. After these works, which will be completed at the end of the year, the Lyon campus will cover a total area of ​​9,000 m².
The novelties of the school year 2022
Since 2021, university fees have been adjusted to the family unit's tax income. This is fairly new to business schools. Therefore, ESSCA is now accessible to as many people as possible. The large school program therefore ranges from € 2,500 to € 12,500 (without fees). This change remains in effect for 2022.
Furthermore, to support his research and illustrate his lessons, ESSCA has set up a unique experimental economics laboratory in France.
"The laboratory is about to start, it is in the testing phase. It is a special tool that will bring an extra dynamic to Lyon ". The goal will be to study the behavior of individuals and how they make their decisions.
This laboratory can therefore be used by researchers for academic research.
From next September there will be "fewer presences more selectivity". In fact, there will be about fifty fewer places for the beginning of the 2022 academic year. The director explains that this choice was made to improve the quality of monitoring. "The Campus offers a lot of devices for this, we don't want to be too big. We still need to be able to support the students ".
Next year, the Lyon campus will be the first campus to remain open until midnight on weekdays. This will allow students to work at any time. The director also plans to extend his hours on weekends.
From next September ESSCA will deploy 5 new specializations of the Grande École Program Master cycle on its Lyon campus with courses exclusively in English and the only one that offers the possibility of study-work:
Review competence
Advice
Financial management
Human resources and talent management
Marketing & Customer Experience (work-study)
As explained above, ESSCA moved in June 2019 to 4 avenue du Pont Pasteur, on the border between Gerland and Confluence. Currently, the campus has an area of ​​6,500 m². However, ESSCA's growth is already leading it to expand the Lyon campus.
On June 28, new works will begin to reach a total area of ​​9000 square meters. This extension aims to create in particular 7 additional classrooms with 50 seats, individual and double offices for teams, spaces specifically dedicated to students with shared workplaces to offer them a favorable learning environment.