Update on the family group based in Burgundy
Two years ago, Voyages Girardot celebrated with great fanfare the 100th anniversary of the Group, based in Chalon-sur-Saône. He didn't have time to blow out all the candles when the pandemic hit this family business head-on, whose green and black coaches cross France and Europe. So how did the Group, led by the three brothers Pascal, Philippe and Christophe Girardot, manage to overcome the crisis? We checked with them.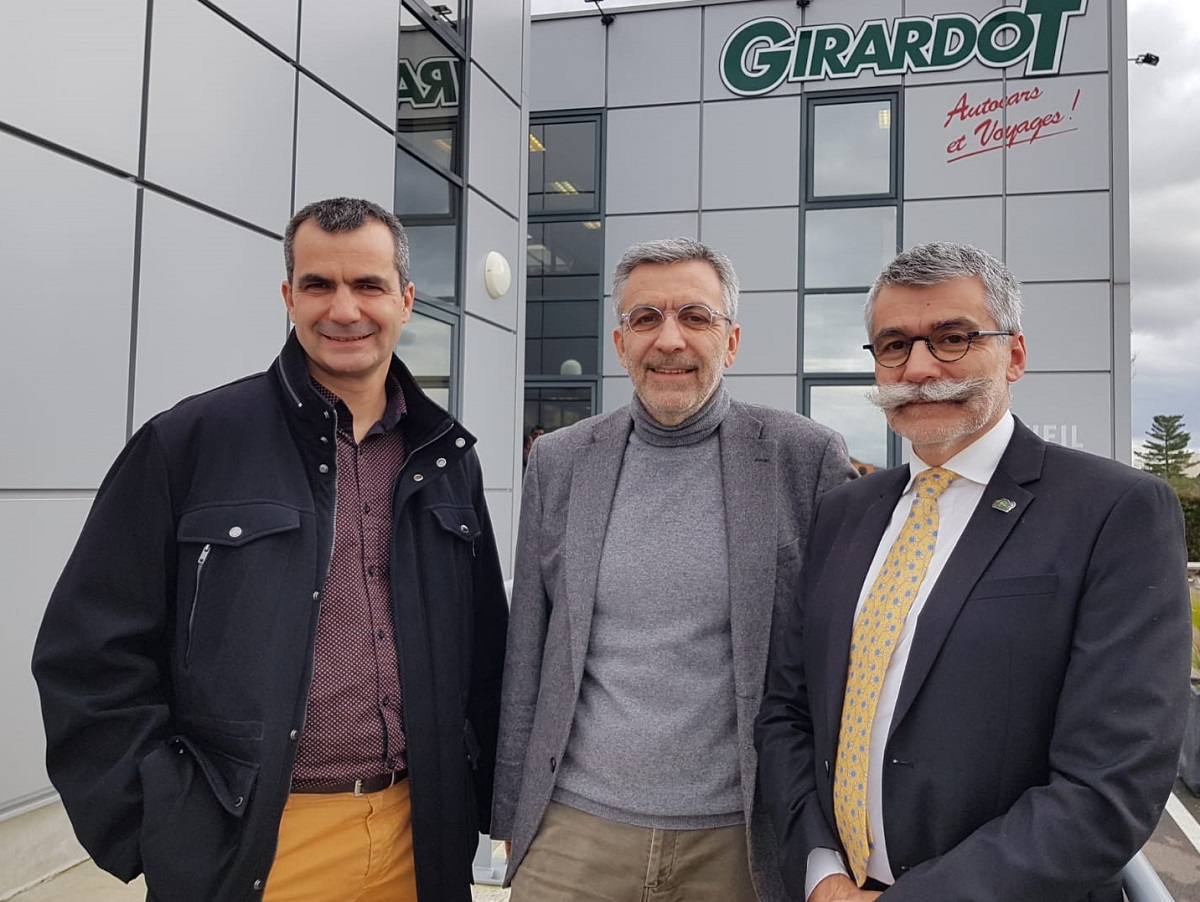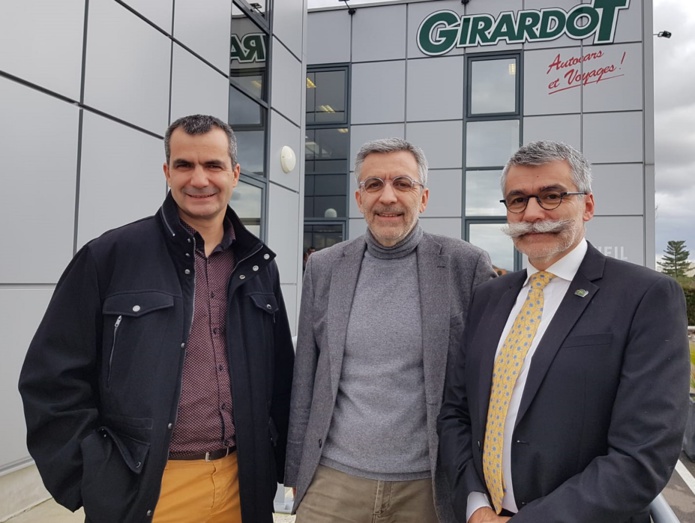 Christophe, Philippe and Pascal Girardot lead the Burgundy-based family group – DR: AB
Vigilance remains essential for the Voyages Girardot group.
After two years of adapting to withstand the health crisis and its economic and social consequences, the Burgundian company based in Chalon-sur-Saône is still not claiming victory.
" Our goal in 2022 is reach 70% of the turnover of N-3, but we are not sure of achieving it »Explains Pascal Girardot, general manager of Selectour Voyages Girardot, cautiously.
Everything will depend on the results of the summer and autumn.
It must be said that the return to normal, although in progress, is not expected in the immediate future. " Our production has been frozen for nearly two years »Continues Pascal Girardot.
Direct consequence: we have not reprinted a paper brochure, our production is now 100% digital and fully bookable online, which allows our customers, depending on the reopening of the borders, to be able to return to destinations open to marketing ".
Although the Voyages Girardot website has been a merchant for 12 years, with the pandemic the emphasis has been placed on digital production, with a strengthening of marketing, a greater presence on social networks and the sending of newsletters.
" We have developed our website and our online sales consistently. Internally we have also prepared the MCTO with our production to the agencies, or the sending of the accounting message to the agency at the end of a sale made on our internal production, which allows us to retrieve the accounting data of a sale. An immediate productivity boost for agencies ", Adds the general manager.
Demand is growing again in France and Europe
Voyages Girardot has also adapted their website so that group clients can register and book a group trip led by a group manager.
He also developed his own travel planning tool. " We have lightened the path between the blank page on which we begin a journey and the last step which consists in having a salable, clickable and directly purchasable program.
These two years have been a godsend for the reopening of construction sites that have been somewhat forgotten or set aside ", comments Pascal Girardot, citing for example the possibility for customers to be able to now print in PDF the details of the programs available online.
READ ALSO: Pascal Girardot (Girardot Voyages): "Nothing is permanent except change … this motto is my fuel!"
Today, despite an evident resumption of travel, at Voyages Girardot we are not yet at levels equivalent to 2019 ". The Mediterranean basin is doing very well, especially Spain, Portugal, Greece, Italy, Corsica, while this is not the case in Morocco and Tunisia.
In general, medium-haul is much better distributed than long-haul, where it is still quite complicated to go to Asia and where the health pass is still required for destinations such as the United States, "adds Pascal Girardot.
With Europe, France is mainly sold by the Group Burgundy – in agencies, through its production department but also its receptive brand Welcome to Burgundy – " as it is not far, it is not expensive and there are not too many health restrictions, no planes to take, no big risks », Comments Pascal Girardot. Circuits, rentals, maxi weekends are the most popular formulas.
Added to this are cruises, river or sea. " We noticed a real desire to leave from our customers, since last autumnwhatever the travel formula », Explains Pascal Girardot, whose Group has already organized 4 cruises with between 30 and 80 people on board.
Two branches closed in Dijon and Châlon
Fears are now centered on the summer, amid airline cancellation announcements, strikes at airports and a lack of staffing between Cabin Crew Members and airport staff.
" For now, nothing has been decided, but we are closely monitoring the situation. Especially by low cost airlines, which very often serve destinations for which there are no other companies positioned … We therefore hope that scheduled flights will be maintained and that, in the worst case, we will be notified well in advance. to be able to protect our customers again, because companies today do not have plan B!
We have the same concerns about all pre-flight routes for long-haul flights, "says Pascal Girardot.
Enough to suggest a more intense activity in the Group's agencies this summer …
Stores that have reopened all but two agencies in Dijon and Chalon-sur-Saône, which have been closed. " There were at least two branches in these cities, so we decided to group the teams and transfer customer files to one branch each time.
This allowed us to do it keep the workforce without losing too many customers since we are still present in these cities ", explains Pascal Girardot.
Currently, the teams are still partially in APLD. In two years, the Girardot Group has lost a total of approximately 10% of its employees, some of which have left for professional retraining. Others are sick.
" We are therefore recruiting in some departments: production, sales, reception / booking – but it is very complicated, above all because the work is not easy, there are few candidates and fewer students, as BTS Turismo has more or less impact in terms of training », Analyzes the general manager.
"Without aid, we wouldn't be here today"
The same problem arises in the transport branch. " They have been there since March a great demand for private transportor rather the rental of "dry" coaches, but we are unable to fulfill all requestsbeing faced with bus driver recruitment problem ", Explains Philippe Girardot, director of the Transport branch.
" We didn't shrink our fleet during the pandemic, but some of our drivers went into early retirement or road hauling. We can therefore only work on 80% of our capacity on average. Added to this is the loss of other operators and the lack of vehicles on the market … "
For the Transport branch of the Girardot Group, separated from the Travel branch, years of crisis were generated a fatal loss in the accounts. " Our last two financial years have been in deficit, because while we were able to benefit from partial unemployment, this was not the case for the other aid – our turnover being split almost equally between public passenger transport and occasional transport, did not reach the thresholds that gave the right to this aid, even though we were in sectors S1 and S1 Bis.
We therefore had to draw on our reserves adds Philippe Girardot.
Luckily, " the company is healthy and the cash flow was quite honorable before the pandemic », Adds Pascal Girardot, we didn't have to do any PGE.
However, the helpers helped us a lot, without them we wouldn't be here today, very clearly. If the government decides to update the aid, we will appreciate it too because today the expenses remain as before, but without the volume.
"If we don't, we lose and if we do, we risk losing on the sidelines"
The restart, as we can see, did not go smoothly. Because after the very "hot" summer that is coming, autumn could be just as complicated.
" In production, we work a lot the start of the season or the end of the season, which is an additional activity for our partner hotels, but for now, some are unable to commit to the fall.
It will depend on the summer season: if they have worked hard enough this summer and reservations arrive late, they will open a little later.
But it will all depend on demand and their ability to accommodate customers, due to the lack of staff, explains Pascal Girardot.
We are having difficulty obtaining confirmation from the hoteliers that they will be open until November, especially the catering part. Ditto for 2023, when we already have requests from our customers … "
So what do you do? Releasing a production without knowing the opening dates yet? " Sometimes we do it by crossing our fingers, telling ourselves that we will find a hotel, but in other cases we don't even know the prices, yet we are sure that they have risen everywhere!
But if we don't, we lose and if we do, we risk losing on the sidelines. It's a totally grotesque situation. "And to mention, for example, the Nice Carnival, for which customers are starting to want to position themselves, while the hotel has not yet communicated its prices …
" It's the same problem with air. Today we don't know how much a plane ticket will cost for next year! The surcharges are coming and, at the same time, our customers are in the same situation: the cost of living has increased and in the fall, this will be evident, some of our customers are waiting ", Continues Pascal Girardot.
In this context, another fact is added: the loss of some of the older customers.
" During this difficult time, some of our customers have found that they are too old to travel. We therefore lost customers faster who, year after year, signed up without asking questions, even as they got older.
With two years off, these are about 15% of our customers who have told us they can no longer leaveespecially on long journeys.
But, more than a century after its creation, Voyages Girardot continues to roll up its sleeves and face challenges!
Note