The potential value of a company has not escaped its dematerialization and a manager must know how to evaluate the non-quantifiable.
Before the advent of the digital age, an analyst or manager evaluated a company based on the financial data of its annual report. Nowadays, it is a safe bet that these valuation elements are already taken into account by the market. The potential value of a company has not escaped its dematerialization and a manager must be able to evaluate the non-quantifiable, that is the intangible assets of a company.
Sometimes a digital ecosystem that caters to customer needs using collected data, such as Pernod Ricard's user-friendly platform, sometimes research and development (R&D) innovative capital, such as Sanofi and its flagship drug Dupixent, an intangible asset may still consist of capital crystallized in the strength of the brand; a powerful lever of differentiation that creates an emotional connection with the consumer and dominated to perfection by giants such as L'Oréal or LVMH.
The advent of intangibles
Identified in the late 1990s by economist Diane Coyle1, the intangible assets of companies have grown since then, at the expense of tangible assets. The comparison of two companies with opposing business models, Essity and Adyen, illustrates the value conferred by intangibles: focused on tangible but trivial products for the former, drawing its potential from a unique technology, developed by visionary minds for the latter. Essity, a traditional Tempo handkerchief company, has experienced stable but modest growth of just 4% per year over 5 years. As for Adyen, a young company that is disrupting the established payments industry, it experienced a dizzying annual sales growth of 55% over the same period. With the digitization of society, it is companies dominated by technologies and ideas, or intangible assets, that create the most value.
Quantify the value of the intangible
An intangible intensity index, made up of expenses for marketing, advertising and R&D, all linked to sales, makes it possible to estimate the value of intangibles. Applied to a portfolio of shares of thirty European companies, the Intangible Intensity Index produces evident results. First, the high intangible intensity appears to impart stability and reduce sales volatility (Figure 1). Indeed, of the ten companies whose sales are the most stable, most of them are active in sectors with high intangible intensity. Able to generate recurring revenue from the software for some, for others it is the strength of their brand that allows them to resist better.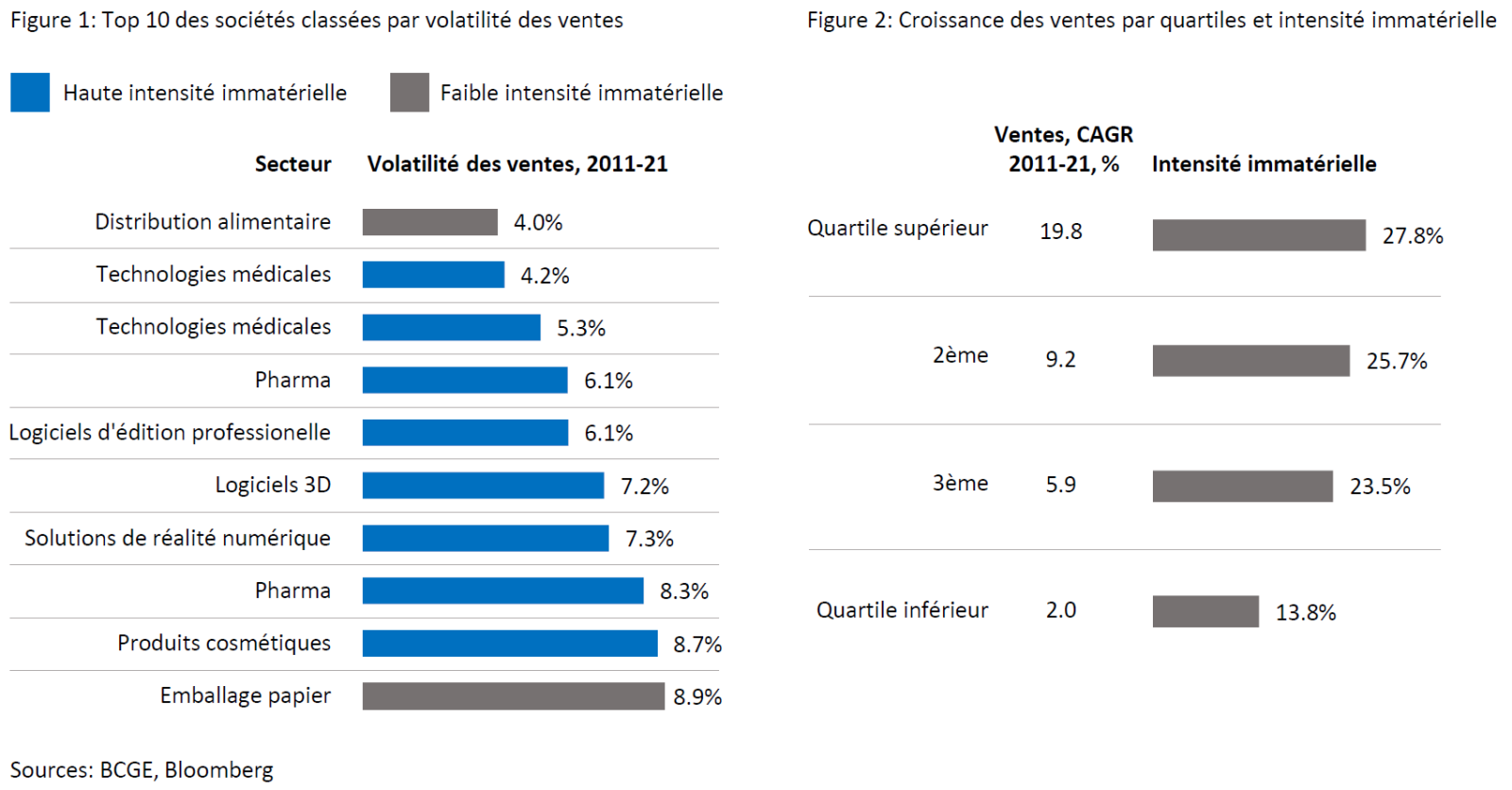 Second, intangible assets appear to increase sales (Figure 2 above). The companies that invest the most in intangible assets (R&D, patents, marketing) are those whose sales growth has been the highest in the last decade.
Implications for Active and Index Management
Too often obsessed with seeking short-term results, active managers must now evaluate the added value of qualitative factors and their medium- and long-term value creation potential, as well as the risks. A hefty one-time expense to support the brand, which would have made more than one analyst swoon, must now be seen as a confirmation of future growth. As for passive investors who build their exposure via style indices, this paradigm shift is not without its effects. As these indices are based on accounting data, they cannot adequately complement some intangible investments.
The uncertainty surrounding intangibles
For many investors, an intangible-intensive company like Adyen may be perceived as less predictable, more speculative, and therefore less investable. However, Essity, which appears to be more stable, is for its part exposed to other no less serious risks, such as obsolescence, the devaluation of its products or a strong sensitivity to the price of raw materials. Faced with the dematerialization of companies whose value increasingly derives from unquantifiable investments, it is essential that any asset manager is able to understand and evaluate the potential of a wide range of intangible assets in order to select companies with high added value . Incidentally, intangibles reduce volatility and identify companies with strong growth. In the future, intangible value will undoubtedly occupy a dominant place in the valuation of any company. It is now up to managers and analysts to grasp its complexity.
1 Coyle, D. The Weightless World, MIT Press, 1997.